UPCOMING EVENTS & SESSIONS
20 September 2021

CIO Catalyst | The evolving role and mandate of the CIO within and beyond IT

The new role, responsibilities and accountabilities of the CIO in 2021 and beyond
Navigating change: how should CIOs effectively drive organizational transformation?
The evolving role and influence of the CIO in the Board
Balancing technology investments, business innovation and risk management

27 OCTOBER 2021

Think-Tank | Edge computing: preparing for the next big IT shift

How cloud and edge computing are amplifying one another
Re-thinking the ITI model to capitalize on AI, IoT, Edge and hyperconvergence
Navigating the Edge from strategy to deployment to provisioning
Cloud + Edge: the foundation of nextgen I&O models?
Edge adoption: critical success factors, key challenges, critical success factors

01 December 2021

Think-Tank | New applications development strategies

Rising apps development & modernization trends for 2022 and beyond
Why RAD and low code AD are becoming the new norm?
Will 5G and Devops revolutionize apps delivery and deployment at high velocity?
Insourcing/outsourcing/co-sourcing: which model best fits for which type of AD strategy?
What is the real future of traditional ERP applications?

09 December 2021:

CIO Boardroom | The dark side of IT: new methods of modern hackers

Key trends and lessons learned from recent ransomware attacks around the world
Anticipating the shift to new criminal business models
Understanding the ransomware victim profiling and pipelining
Recommended defenses: shielding organizations against new ransomware variants

February 2022

Think-Tank | Nextgen artificial intelligence: scaling to the upper level

Understanding the growing technology perimeters and business potential of AI
Building user trust in expanding AI capabilities
From proof of concept to large-scale deployment: building an ambitious although realistic AI roadmap
Setting up an AI governance model: what, how, whom?- Reusability, scalability, reliability, security: addressing the growing AI challenges

09 March 2022

CIO Leadership Summit | Digital workplace: what's next for IT

Redefining how, where and with which technology work gets done
Will the new workplace necessarily be fully cloud and AI enabled?
Building the critical architecture, building blocks and transition roadmap for the extended hybrid workplace
Delivering the workplace as a service – integrating cloud, AI, IoT, collaboration and visioconf tools as a whole
Hyperautomation of tasks by capitalizing on what humans and technology can best accomplish together
Remote workers, device management and cybersecurity: how will CIOs really address the challenge?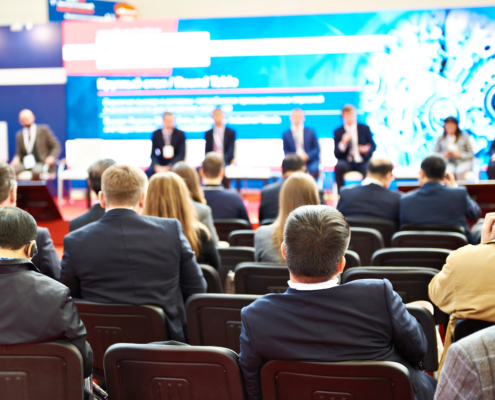 DIGITAL WORKPLACES: WHAT's NEXT?
https://cioexecutivecircle.com/wp-content/uploads/2021/08/CIOLS-Home-page3-scaled.jpg
1709
2560
admin9206
http://cioexecutivecircle.com/wp-content/uploads/2021/08/logo-300x138.png
admin9206
2021-08-19 14:48:33
2021-10-20 19:40:12
CIO Leadership Summit | 09 March 2022